Events For November 2023
Classical Blast! Dark Side of the Yule
Saturday November 18, 2023 at 7:00 PM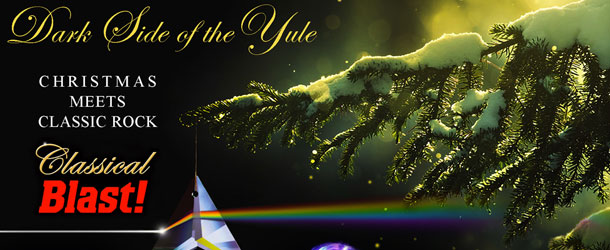 Melding Christmas and rock music in ways never heard before!
Classical Blast melds classic rock and Christmas in this exhilarating concert experience that's sure to become an annual holiday tradition. Combining rock hits from Metallica to Pink Floyd with their unique take on traditional carols and classical favorites, Classical Blast has created one of the most unusual and enjoyable holiday shows to be found. Its eye and ear candy the Sugarplum Fairy herself could be proud of. With guest vocalists and musicians, storytelling and unforgettable music. Let Classical Blast bring their brand of Christmas to your patrons this year!
This is not your typical Christmas concert! "Dark Side of the Yule" combines classic rock and Christmas in ways you've never heard before. Medieval holiday music like Coventry Carol mashed with Pink Floyd's "Great Gig in the Sky," or a new spin on Gabriel's Message. Amazing Grace melds with Leonard Cohen's "Hallelujah," Silent Night seamlessly blurs into Simon & Garfunkel's "Sound of Silence," while Tchaikovsky's "Dance of the Sugarplum Fairy" flirts with Metallica's "Enter Sandman." Rockin' versions of traditional Christmas, sweetly haunting originals and so much more! Packed with great musical performance and plenty of fun for any age, this is one Christmas show you'll be telling everyone about long after Santa has come and gone!
Dark Side of the Yule
Christmas Meets Classic Rock in Classical Blast's live holiday concert, Dark Side of the Yule. Dark Side of the Yule is a popular entertainment choice throughout the Midwest. The show melds Christmas and rock music in ways never heard before, with music by bands like Metallica, Evanescence, Pink Floyd, Beatles, Simon & Garfunkel and others, all mashed with holiday classics, baroque carols, classical music and originals. Is it Christmas, is it rock, is it pop, is it traditional? It's all of the above and more, all rolled into a series of musical stories that explore some of the holiday season's darker themes. But don't worry, everyone see the light by the end!
Tickets:
$22(in advance) $25(at the door)
Students (18 & Under) Tickets:
$13(in advance) $15(at the door)
All Seating is General Admission
Helen Russell & Company
Saturday November 25, 2023 at 2:00 PM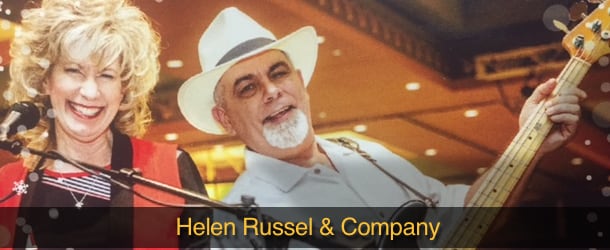 A little bit of country and a little bit of rock 'n' roll
Helen Russell & Company call Osage Beach, Missouri home and have recently returned from touring the Rio Grande Valley in Texas, where they were awarded "Best Small Band Variety Show" by the Valley Star Awards for the fourth year in a row, as well as "Entertainers of the Year" for two years in a row! They are excited to be returning to the Ohnward Fine Arts Center with a show that will put you in the and entertain you with great vocals, scalding piano, hot licks on the banjo and a jumpin' bass guitar with a variety of live Christmas tunes as well as Country, Bluegrass, Rockabilly, Gospel and Classic Rock music of the 50's to the 80's, plus a tribute to our Veterans! Crowd pleasing comedy and impersonations make this a Show that will leave you 100% entertained!
Tickets:
$22(in advance) $25(at the door)
Students (18 & Under) Tickets:
$13(in advance) $15(at the door)
All Seating is General Admission
19thAnnual Festival of Trees now Ohnward's Community Christmas
Nov. 11th through Nov. 26th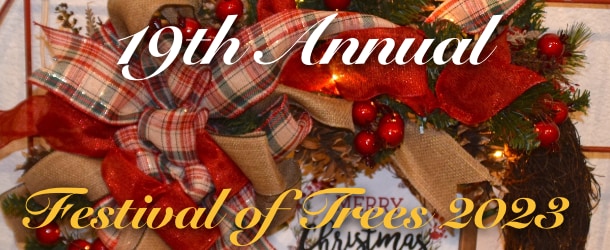 Beginning Saturday, November 11, through Sunday, November 26, 2023.
Monday-Friday | 10am-4pm
Saturday & Sunday | Noon-4pm

We appreciate the response and support we had to our Festival of Trees in past years. This year, we want to encourage more community support and involvement.

This year we are offering more opportunities for participation. We encourage you to bring in decorated trees and wreaths; however, you will be able to demonstrate your creativity and talents. For example, you might want to do a room of miniatures, a center piece to decorate a table, mantle, door, or something for outside. Maybe you would like to create a basket full of goodies. Use your imagination and have fun. Something special and new for this year. For those who bring in an item or sponsor an item for the silent auction will be put into a drawing for a prize.

If you are short on time to decorate a tree or wreath of your own, we can do it for you! You will be able to select from our custom trees and wreaths made by Ohnward's Artisans. Fewer trees and wreaths are available this year.

This year we will be introducing a Gingerbread House Competition. You will be able to bring in the houses on November 18 to be judged with winners announced on November 19. The categories for this competition will be Families and Individuals. Individuals will be 0 - 12 years; 13 to 18, 19 up. Prizes will be awarded in each category.

During the Ohnward's Community Christmas all who visit can register for a Christmas basket. The winning name will be drawn on the last day of the event. As in years past, we will have a Buy It Now price on the trees and wreaths in our silent auction. The Buy It Now does not apply to other items donated to the silent auction.

We would also like to bring some entertainment on November 12 or November 19. If you know of any small groups that would be willing to perform on Sunday afternoon, please let them know to contact OFAC. These can include neighbors caroling, small instrumental groups, bells, school groups, individuals, etc. The groups can perform various times.

Volunteers are always needed for a 2-hour shift during the Community Christmas event. You will be assisting people, selling raffle tickets, and just talking with the guests that come. You can always do more than just one shift. Please contact OFAC for a time, if you are interested.

All the proceeds from the silent auction of sponsored and donated OFAC items help to ensure that Ohnward Fine Arts Center's 841-seat theatre will remain operational for future generations.

The Ohnward board is excited about our changes and looking forward to seeing you at Ohnward's Community Christmas.

Interested in sponsoring a tree or wreath? It's easy. You can call Ohnward at 563-652-9815 anytime, or stop by on Sunday, November 5th from 9 am and 3 pm; and November 6th from 9 am to 6 pm. All trees and wreaths will be on the lobby just looking for a sponsor.

Available again this year you can purchase a Holiday Family Gift Pass. This pass offers you four passes (tickets) to any of our 2024 Ohnward Fine Arts Center productions. Easy to use and you save money! Passes will be available starting on Saturday, November 11 and run through December 31, 2023. Each Holiday Family Gift Pass is just $90.

Questions can be directed to the Ohnward Fine Arts Center at 563-652-9815.
Tickets:
Admission is FREE