The Ohnward Fine Arts Center
"Bringing the arts to everyone"
The Ohnward Fine Arts Center is a volunteer based, nonprofit organization that exists to offer quality and varied entertainment, provide lifelong learning opportunities, and foster creative expression throughout the community in a fiscally responsible manner.
Our Next Event: The Beatelles
Sunday December 31, 2023 at 7:00 PM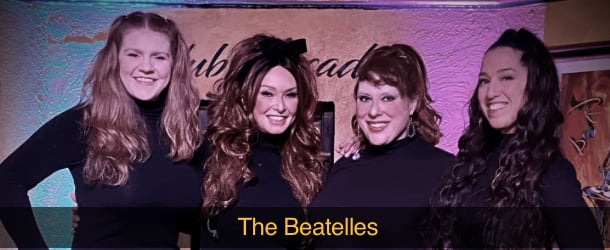 World Famous Female Driven Beatles Tribute Show
New Years Eve!
The Beatelles feature four powerhouse female vocalists performing the songs of John, Paul, George and Ringo with harmonious perfection. These ladies have shaken up the tribute world, offering a fresh and fun twist to a timeless catalog that spans from "Love Me Do" to "Let It Be". Set to a backdrop of stunning multimedia, there is also choreography, costume changes, witty banter, and trivia. This is a must see show for any fan of The Beatles!
Tickets:
$30(in advance) $35(at the door)
All Seating is General Admission
Our Location
The Ohnward Fine Arts Center is located at 1215 East Platt Street in Maquoketa, Iowa on Highway 64 (right across the road from the Jackson County Fairgrounds). Stop in and see our beautiful facility!
Click Here to go to the Maquoketa Chamber of Commerce to find out more information about Maquoketa and all we have to offer.
Review Us!
We would love to hear about your experience at the Ohnward Fine Arts Center. Click the image below and leave us a review!