The Ohnward Fine Arts Center
"Bringing the arts to everyone"
The Ohnward Fine Arts Center is a volunteer based, nonprofit organization that exists to offer quality and varied entertainment, provide lifelong learning opportunities, and foster creative expression throughout the community in a fiscally responsible manner.
Trivia Night
Saturday Night, October 25 at 6:00 PM
A fundraiser for the Ohnward Fine Arts Center. Doors open at 6:00 PM and competition begins at 7:00 PM. Prizes awarded for best Halloween Costume! Snacks, soda, water, beer, and wine available. No coolers allowed. Pre-registration is encouraged. Click here for the event poster.
Our Next Event: Heartache Tonight - The Music of the Eagles
Wednesday, December 31, 2014 at 7:00 PM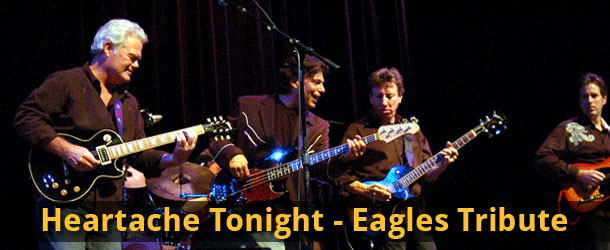 From the powerful guitar duel in Hotel California" to the shimmering harmonies of "Peaceful Easy Feeling." Heartache Tonight delivers a true Eagles concert experience, with meticulous attention to every detail. Heartache Tonight brings together music from all eras and incarnations of this huge rock powerhouse that produced hits over our decades. There are no pre-recorded backing tracks in the Heartache Tonight show; all vocal harmonies and guitar parts are faithful to the originals and performed live. There is no " choreography no leather pants, no cowboy hats! Just hit song after hit song from one of the greatest rock bands of all time, performed by tremendously talented musicians with perfection and passion. A Heartache Tonight concert is filled with moments designed to thrill classic rock fans: the soaring a cappella harmonies of "Seven Bridges Road," the snarling guitars of "Life In The Fast Lane," the anthemic country rock of "Take It Easy," and the beautifully evocative "Heart Or The Matter." Close your eyes and you'll swear you're hearing the real thing.
Tickets:
$25(in advance) $30(at the door)
Community Theatre, Maquoketa, Iowa
Our Location
The Ohnward Fine Arts Center is located at 1215 East Platt Street in Maquoketa, Iowa on Highway 64 (right across the road from the Jackson County Fairgrounds). Stop in and see our beautiful facility!
Click Here to go to the Maquoketa Chamber of Commerce to find out more information about Maquoketa and all we have to offer.