The Ohnward Fine Arts Center
"Bringing the arts to everyone"
The Ohnward Fine Arts Center is a volunteer based, nonprofit organization that exists to offer quality and varied entertainment, provide lifelong learning opportunities, and foster creative expression throughout the community in a fiscally responsible manner.
Raid the Roof!
We need a new roof and we need your help!
The Ohnward Fine Arts Center is now in it's 11th season and it is now time to replace the roof on the entire building.  I know this does not seem like a glamorous fundraiser, but it must be done!
The Ohnward Fine Arts Center is a non-profit organization. We receive no funding from the city of from tax dollars. We rely on the generous donations of our business partners and patrons to meet many of our expenses. As a 501(c)(3) organization, all donations to Ohnward are tax-deductible. We are deeply grateful to all those who have given so generously in the past, strengthening Ohnward and ensuring its vitality in this wonderful community.
Our Next Event: Classical Blast! Dark Side of the Yule
Saturday, November 17 @ 7PM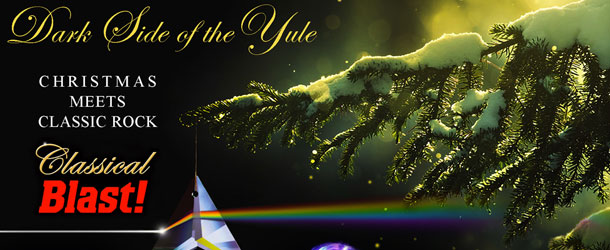 Classical Blast, based out of the Chicago area, is wildly popular for their innovative new arrangements of classic rock tunes performed on a mix of classical and rock instruments. The band has opened concerts for Joan Jett, Michael McDonald, ELO-The Orchestra, Rik Emmet, Burton Cummings and many other National Acts. Their unique mix of classical and contemporary is captivating, powerful and beautiful.

NOW they've adding Christmas to the mix with their Dark Side of the Yule album and full concert show, with special guest vocalist, Laura McDonald. This is not your typical Christmas concert! "Dark Side of the Yule" combines classic rock and Christmas in ways you've never heard before. Medieval holiday music like Coventry Carol mashed with Pink Floyd's 'Great Gig in the Sky,' or a new spin on Gabriel's Message. Amazing Grace melds with Leonard Cohen's 'Hallelujah,' Silent Night seamlessly blurs into Simon & Garfunkel's 'Sound of Silence,' while Tchaikovsky's "Dance of the Sugarplum Fairy" flirts with Metallica's "Enter Sandman." Rockin' versions of traditional Christmas, sweetly haunting originals and so much more! Packed with great musical performance and plenty of fun for any age, this is one Christmas show you'll be telling everyone about long after Santa has come and gone!

Tickets:
$22(in advance) $25(at the door)
Students (18 & Under) Tickets:
$13(in advance) $15(at the door)
All Seating is General Admission
Our Location
The Ohnward Fine Arts Center is located at 1215 East Platt Street in Maquoketa, Iowa on Highway 64 (right across the road from the Jackson County Fairgrounds). Stop in and see our beautiful facility!
Click Here to go to the Maquoketa Chamber of Commerce to find out more information about Maquoketa and all we have to offer.