The Ohnward Fine Arts Center
"Bringing the arts to everyone"
The Ohnward Fine Arts Center is a volunteer based, nonprofit organization that exists to offer quality and varied entertainment, provide lifelong learning opportunities, and foster creative expression throughout the community in a fiscally responsible manner.
Trivia Night
Saturday Night, October 25 at 6:00 PM
A fundraiser for the Ohnward Fine Arts Center. Doors open at 6:00 PM and competition begins at 7:00 PM. Prizes awarded for best Halloween Costume! Snacks, soda, water, beer, and wine available. No coolers allowed. Pre-registration is encouraged. Click here for the event poster.
Our Next Event: Festival of Trees
Nov. 15th through Nov. 25th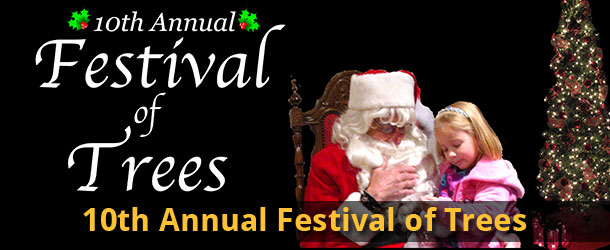 10th Annual Festival of Trees
Sat & Sun - 1pm to 7pm.
Mon thru Fri - 9am to 7pm.
The Ohnward Fine Arts Center is currently planning our Tenth Annual Festival of Trees. Last year, we had such a wonderful response to our festival -- with bidding on creative trees and beautiful wreaths, theatre entertainment, Santa, students and adults singing, piano, violin and bell players that we are adding even more activities to the Festival of Trees 2014! Our goal again this year is to create a holiday atmosphere to be enjoyed by all those attending the many functions that will be held at the Center. The proceeds will go to the Ohnward Fine Arts Center.

In fact make plans to attend "The Timber City Holiday Showcase running Saturday, November 22 at 7PM.

Trees and wreaths will be featured at the Fine Arts Center November 15th through November 25th. The Center will be open Monday thru Friday 9 AM to 7 PM and Saturday and Sunday 1 PM to 7 PM.

Also available again this year you can purchase a Holiday Family Gift Pass. This pass offers you four passes (tickets) to any of our 2014 Ohnward Fine Arts Center productions. Easy to use and you save money! Each Holiday Family Gift Pass is just $80. Simply call 563-652-9815 between 9 AM and 1 PM or just stop into the Ohnward Fine Arts Center at 1215 E. Platt Street in Maquoketa to order yours today!
Tickets:
$0.00(at the door)
Community Theatre, Maquoketa, Iowa
Our Location
The Ohnward Fine Arts Center is located at 1215 East Platt Street in Maquoketa, Iowa on Highway 64 (right across the road from the Jackson County Fairgrounds). Stop in and see our beautiful facility!
Click Here to go to the Maquoketa Chamber of Commerce to find out more information about Maquoketa and all we have to offer.