The Ohnward Fine Arts Center
"Bringing the arts to everyone"
The Ohnward Fine Arts Center is a volunteer based, nonprofit organization that exists to offer quality and varied entertainment, provide lifelong learning opportunities, and foster creative expression throughout the community in a fiscally responsible manner.
Our Next Event: The Wichita Lineman - A Tribute to Glen Campbell Featuring Carl Acuff, Jr.
Saturday, September 14 @ 7PM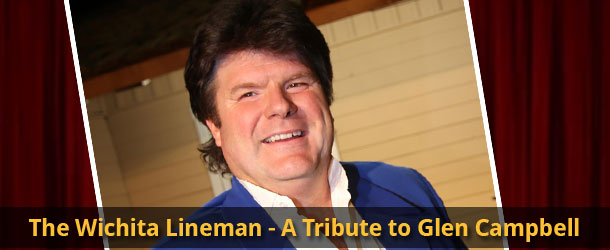 Glen Campbell spent 5 decades entertaining audiences all over the world. He was an American Treasure whose songs and dazzling showmanship shot him to superstardom in the 1960's Glen's hits included songs like: "Gentle On My Mind", "By The Time I Get To Pheonix", "The Wichita Lineman", "Dreams of an Everyday Housewife", "Galveston", "Rhinestone Cowboy", and "Southern Nights".

During his 50 years in the music business, Campbell released more than 70 albums. He sold 45 million records worldwide and accumulated 12 gold albums, four platinum albums, and one double-platinum album. He placed a total of 80 different songs on the Billboard Country Chart, Billboard Hot 100, or Adult Contemporary Chart, of which 29 made the top 10 and of which nine reached number one on at least one of those charts.

After Glen's death in August of 2017 fellow musician and entertainer in his own right, Carl Acuff Jr. along with a notable group of musicians decided to put together a tribute show to this entertainment legend featuring his wonderful catalog of music. Therefore, The Wichita Lineman show was born. After searching around on how to approach this project Carl hand picked musicians to bring this show to life with full instrumentation, great vocals and musical ability. Each wonderful entertainers in their own right, beginning in 2018 they will bring to life Glen Campbell's music once again including all those great hits that made Glen Campbell so popular all those years for all the world to enjoy the way it was meant to be performed.
Tickets:
$22(in advance) $25(at the door)
Students (18 & Under) Tickets:
$13(in advance) $15(at the door)
All Seating is General Admission
Our Location
The Ohnward Fine Arts Center is located at 1215 East Platt Street in Maquoketa, Iowa on Highway 64 (right across the road from the Jackson County Fairgrounds). Stop in and see our beautiful facility!
Click Here to go to the Maquoketa Chamber of Commerce to find out more information about Maquoketa and all we have to offer.
Review Us!
We would love to hear about your experience at the Ohnward Fine Arts Center. Click the image below and leave us a review!