The Ohnward Fine Arts Center
"Bringing the arts to everyone"
The Ohnward Fine Arts Center is a volunteer based, nonprofit organization that exists to offer quality and varied entertainment, provide lifelong learning opportunities, and foster creative expression throughout the community in a fiscally responsible manner.
Cancelling events that are likely to draw crowds is an example of social distancing. Social distancing is deliberately increasing the physical space between people to avoid spreading illness. Staying at least six feet away from other people lessens your chances of catching COVID-19.
The Ohnward Fine Arts Center is committed to the safety of our patrons, resident partners, artists, volunteers and staff. It is of the highest priority. We have cancelled the April 25 show, Helen Russell and Company and have rescheduled them for 2022. Because of this show and other cancelations that have taken place at the Ohnward Fine Arts Center we are asking for any donations at this time. We are a 501 C3 and all donations are tax deductible. Donations can be made here a PayPal.Me/OhnwardFineArts.
Our Next Event: Gordy and Debbie
Saturday August 20, 2022 at 7:00 PM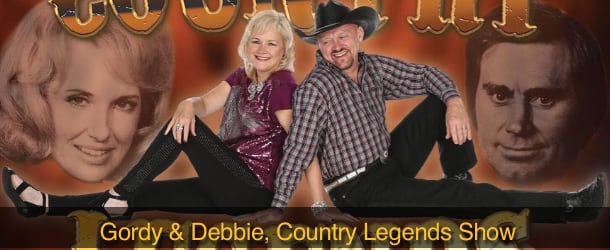 Country Legends Show
Gordy & Debbie take you on a nostalgic musical journey in their Country Legends show as they bring the songs and the faces of who made them famous to life! This meticulously designed show is enhanced with video footage in each song they perform and perfectly synced with the music to create the illusion of the original artist that performed the song, only with Gordy & Debbie providing their amazing vocals live! Some of the videos even provide a storyboard of each artist's life, complete with pictures of the past and present, as well as tidbits of interesting information about the artist or the song! This show is pure country music and storytelling at its finest and it's even laced with a little humor and some great audience participation. Some of the Country Legends you will hear Gordy & Debbie perform are Hank Williams, Patsy Cline, Merle Haggard, Lynn Anderson, Conway Twitty, Loretta Lynn, Kenny Rogers, Dolly Parton, George Jones, Tammy Wynette, Johnny Cash, Tanya Tucker, Glenn Campbell, Anne Murray, Willie Nelson, Alan Jackson, Reba McEntire, plus many more! The show's grand finale culminates with a medley of three great country songs all meshed together with an all-star cast of country music's biggest stars from the past and present. This show will be an experience you won't soon forget!
Tickets:
$22(in advance) $25(at the door)
Students (18 & Under) Tickets:
$13(in advance) $15(at the door)
All Seating is General Admission
Our Location
The Ohnward Fine Arts Center is located at 1215 East Platt Street in Maquoketa, Iowa on Highway 64 (right across the road from the Jackson County Fairgrounds). Stop in and see our beautiful facility!
Click Here to go to the Maquoketa Chamber of Commerce to find out more information about Maquoketa and all we have to offer.
Review Us!
We would love to hear about your experience at the Ohnward Fine Arts Center. Click the image below and leave us a review!