The Ohnward Fine Arts Center
"Bringing the arts to everyone"
The Ohnward Fine Arts Center is a volunteer based, nonprofit organization that exists to offer quality and varied entertainment, provide lifelong learning opportunities, and foster creative expression throughout the community in a fiscally responsible manner.
Great Give Day 2015!
Great Give Day is returning on May 5, 2015, and the Ohnward Fine Arts Center is excited to take part in this monumental event!
Great Give Day, hosted by the Community Foundation of Greater Dubuque, is a community-wide online giving day—a special occasion to celebrate Northeast Iowa's spirit of generosity and support the work of nonprofits.
This 24-hour, online event will help the Ohnward Fine Arts Center raise much-needed unrestricted dollars and help to grow our endowment to build a sustainable source of income and bring awareness to pressing needs in our communities. Plus, your gifts made during Great Give Day will be increased by incentives and awards for participating nonprofits, which may help us qualify for special prizes and bonuses.
For more information, contact us or visit www.GreatGiveDay.org.
AUDITIONS - Bingo the Winning Musical
Saturday, May 16 at 3:00 PM
Auditions are being held at the Peace Pipe Player Building located at 400 North Eliza Street, Maquoketa. 

A joint production between the Ohnward Fine Arts Center and Peace Pipe Players.
This show will be directed by W. Dan Pinion.
Bingo the Winning Musical - Synopsis: 
Bingo is a splashy, zippy, fun new musical comedy. Bingo is about a group of die-hard bingo players who stop at nothing to miss their weekly game. In between the number calling, strange rituals and fierce competitions, love blossoms and long lost friends reunite. These lovable characters spring to life with a smart, funny script and bouncy, hummable score. Audiences will be laughing in the aisles when they aren't playing games of bingo along with the cast!
Best friends and Bingo pals Vern, Honey and Patsy brave a terrible storm in order to attend the yearly celebration of the birth of Bingo and tribute to its founder, Edwin S. Lowe. As the storm knocks out power at the Bingo Hall, Patsy and Honey remind each other of the ominous night fifteen years ago that began in the same way. In flashback, Honey tells us about the night Vern and her best friend, Bernice, had their falling out. Bernice's sweet, yet headstrong daughter, Alison, enters the Bingo hall in disguise - Bernice's health is failing, and Alison is determined, with the help of Bingo, to reunite her mother with her long-lost best friend.
Our Next Event: Pauly Shore
Thursday May 7, 2015 at 7:00PM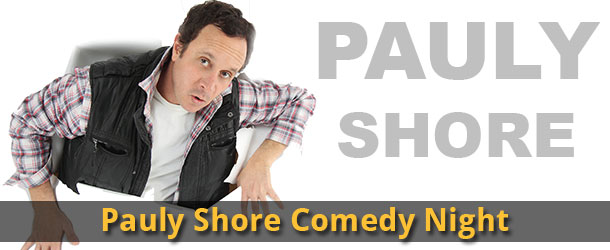 Stand-up comic, actor, writer, director Pauly Shore tasted super-stardom in 1990 when his precedent-setting MTV show "Totally Pauly" hit the airwaves to major fan approval. The show ran for six years, leading him to television and film roles. In 1993, he wrote and starred in a one-hour HBO television special, Pauly Does Dallas, which drew in even more loyal fans.
He had roles in films from 1988, providing supporting comedy relief, but it was the wildly popular Encino Man (1992), partnered with Sean Astin and Brendan Fraser, that put Pauly on the map. Films followed, including Son in Law (1993), In the Army Now (1994), Jury Duty (1995), Bio-Dome (1996) and The Curse of Inferno (1997). He provided voices in animated features such as Casper: A Spirited Beginning (1997) and The Goofy Movie Franchise (1995/2000).
His first album, "The Future of America," was named Best Comedy Album by the college music journalists in 1991, while the National Association of Record Merchandisers nominated his second album, "Scraps from the Future," for a Best Sellers Award.
Pauly has made several appearances in recent years as a recurring guest on Howard Stern's late-night show, as well as David Letterman's talk show. He tours the country with his stand-up comedy act.
In 2003, Shore produced, wrote, directed and starred in Pauly Shore Is Dead, a semi-autobiographical mockumentary, and in 2005 starred in the reality television series Minding the Store. His production company, Landing Patch Productions, has produced multiple films and specials: Natural Born Komics (2007), Adopted (2009), Vegas Is My Oyster (2011), and Pauly~tics (2012).
Currently, Pauly is working on Pauly Shore Stands Alone, a true-life road documentary that follows him as he performs in obscure towns throughout Wisconsin while dealing with his personal life back home. Pauly is also debuting a podcast series later this year: Pauly Shore's Interested. In it, he interviews Arsenio Hall, Chris Rock, Whitney Cummings, Former RNC Chair Michael Steele, Dodger's pitcher Brian Wilson, and many many more.
Tickets:
$25(in advance) $30(at the door)