The Ohnward Fine Arts Center
"Bringing the arts to everyone"
The Ohnward Fine Arts Center is a volunteer based, nonprofit organization that exists to offer quality and varied entertainment, provide lifelong learning opportunities, and foster creative expression throughout the community in a fiscally responsible manner.
Raid the Roof!
We need a new roof and we need your help!
The Ohnward Fine Arts Center is now in it's 11th season and it is now time to replace the roof on the entire building.  I know this does not seem like a glamorous fundraiser, but it must be done!
The Ohnward Fine Arts Center is a non-profit organization. We receive no funding from the city of from tax dollars. We rely on the generous donations of our business partners and patrons to meet many of our expenses. As a 501(c)(3) organization, all donations to Ohnward are tax-deductible. We are deeply grateful to all those who have given so generously in the past, strengthening Ohnward and ensuring its vitality in this wonderful community.
Our Next Event: Nashville Star - Mandy Barnett Sweet Dreams!
Saturday, April 15, 2017 at 7:00 PM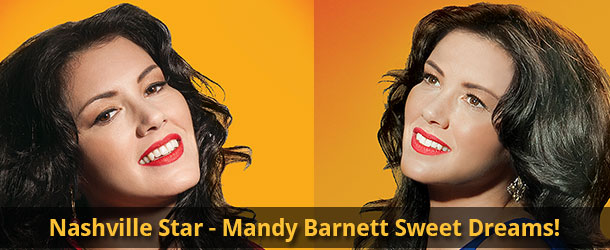 An uncompromising singer whose style is rooted in the classic country of Patsy Cline, Jim Reeves, Webb Pierce, and Brenda Lee, Mandy Barnett's keen interpretive sense enables her to delve into a song, study the intricacies of its emotional content, and render a powerful performance through her full-bodied voice. Her torchy delivery on her contemporary yet retro-sounding country and pop-tinged material harkens back to the likes of all-time great female singers and timeless sounds.
Mandy has starred as Patsy Cline in the musical production Always...Patsy Cline at the Ryman Auditorium in Nashville on and off since 1994, most recently in Summer 2011. Mandy tours regularly in concert, nationally and internationally, and is a frequent guest on the Grand Ole Opry.
She has released critically applauded albums, including her self-titled debut, I've Got a Right to Cry produced by Owen Bradley, the Christmas album Winter Wonderland, Sweet Dreams, and I Can't Stop Loving You: The Songs Of Don Gibson. Mandy has also been featured on movie soundtracks.
Tickets:
$22(in advance) $25(at the door)
Students (18 & Under) Tickets:
$13(in advance) $15(at the door)
All Seating is General Admission
Our Location
The Ohnward Fine Arts Center is located at 1215 East Platt Street in Maquoketa, Iowa on Highway 64 (right across the road from the Jackson County Fairgrounds). Stop in and see our beautiful facility!
Click Here to go to the Maquoketa Chamber of Commerce to find out more information about Maquoketa and all we have to offer.