The Highway Men Show - American Outlaw Tribute
Saturday September 9, 2023 at 7:00 PM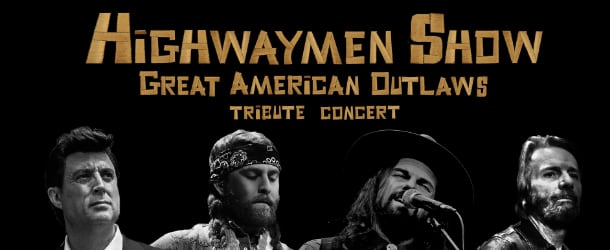 The entire show will feel like an encore!
The Highwaymen Show pays tribute to Willie Nelson, Johnny Cash, Waylon Jennings and Kris Kristofferson. This is the only touring Highwaymen show in the world that pays tribute to all four Highwaymen. In 1984 Johnny Cash invited Willie Nelson, Waylon Jennings and Kris Kristofferson to play on his Johnny Cash Christmas TV Special that was filmed in Switzerland. When they got back to the hotel they started jamming and hanging out and that was how the Highwaymen came to be.
The Highwaymen Show is a multi-media tribute to country music's original outlaw experience... playing all the hits on vintage style instruments. The Highwaymen Show Features Gray Sartin as Johnny Cash, North Carolina native, Greg Bauman as Kris Kristofferson, Georgia native Tyson Halford as Willie Nelson and Tennessee native, Stefan Superti as Waylon Jennings. The Highwaymen Show covers all of the greatest hits including Highwayman, Mama Don't Let Your Babies Grow up to be Cowboys, Always on My Mind, and Me and Bobby McGee. The entire show will feel like an encore.
Tickets:
$22(in advance) $25(at the door)
Students (18 & Under) Tickets:
$13(in advance) $15(at the door)
All Seating is General Admission
(SOLD OUT) A Chicago BUS TRIP to see Hamilton!
Thursday September 14, 2023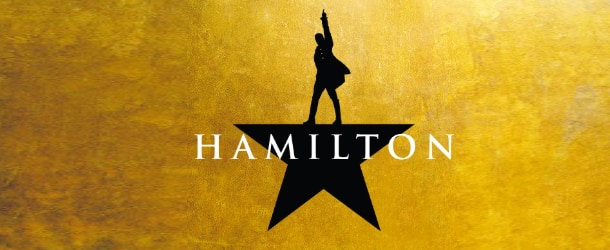 Hamilton Bus Trip!
Another Fun Filled Bus Trip from the Ohnward Fine Arts Center
The Ohnward Fine Arts Center is booking a bus trip to see the musical Hamilton in Chicago at the James M. Nederlander Theater. The date is Thursday, September 14, 2023. It is a 1:30 PM matinee. We will leave from the Ohnward Fine Arts Center's parking lot at 7:30 AM on that date. We should return abound 9:30 PM.
HAMILTON is the story of America then, told by America now. Featuring a score that blends hip-hop, jazz, R&B and Broadway, HAMILTON has taken the story of American founding father Alexander Hamilton and created a revolutionary moment in theatre, a musical that has had a profound impact on culture, politics, and education. With book, music, and lyrics by Lin-Manuel Miranda, direction by Thomas Kail, choreography by Andy Blankenbuehler, and musical supervision and orchestrations by Alex Lacamoire.
HAMILTON is based on Ron Chernow's acclaimed biography. It has won Tony®, Grammy®, and Olivier Awards, the Pulitzer Prize for Drama, and an unprecedented special citation from the Kennedy Center Honors.
The cost is $210 each. These tickets will be sold first come first serve. No exceptions. Also no refunds will be given after tickets are purchased. There are only 54 tickets being sold.
To get your tickets you must CALL the Ohnward Fine Arts Center at 563-652-9815 between 9 am and 1 pm Monday through Friday. Or just stop in. Last time tickets sold out in 3 days, so don't wait. Hamilton will only be in Chicago for a brief time. This may be your last chance to see it LIVE!
SOLD OUT
Tickets:
$210(in advance) $(at the door)