Helen Russell & Company
Saturday July 9, 2022 at 2:00 PM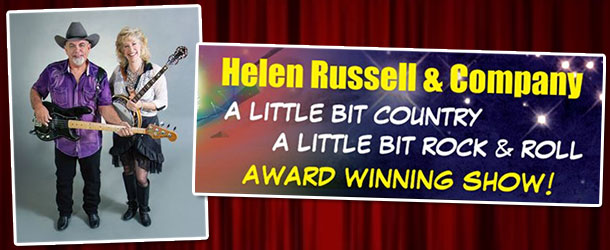 A little bit of country and a little bit of rock 'n' roll
Elvis and Helen Russell provide high energy toe-tappin' LIVE AWARD WINNING music shows and entertainment for a variety of venues across the United States. They are located in the Lake of the Ozarks area at Osage Beach, MO. Many folks remember Helen as an entertainer with Lee Mace's Ozark Opry, where her abilities as a vocalist and instrumentalist were enjoyed 6 nights a week for 19 seasons. Well folks, she is now better than ever! Enjoy family style comedy and impersonations along with audience participation! With Elvis on bass, they also feature keyboard, banjo and drums. It will be an entertainment experience that you are sure to enjoy. They look forward to seeing you "on the front row" at the Ohnward Fine Arts Center. You will be 100% entertained!! Featuring Classic Country, Bluegrass, Classic Rock, Gospel, Comedy and Impersonations!
Tickets:
$22(in advance) $25(at the door)
Students (18 & Under) Tickets:
$13(in advance) $15(at the door)
All Seating is General Admission
Melissa the Medium
Saturday July 23, 2022 at 7:00 PM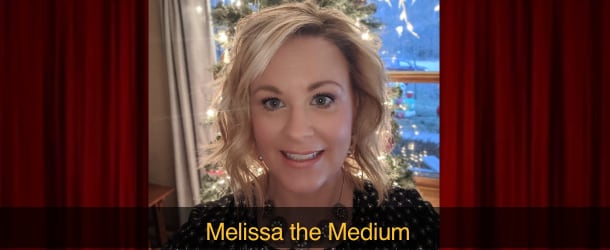 Melissa the Medium from Dubuque
Melissa Culbertson was born and raised in Dubuque Iowa. Ever since she was a young girl Melissa has experienced the presence of spirit in many ways. During her childhood she had many profound experiences with spirit and her psychic ability. It wasn't until later in life when she fully understood what her ability was. Melissa uses her Christian background for guidance as she delivers messages. The many paths that Melissa has walked in life have also led her to be a self-help coach. Many people have found strength, stability and love for themselves taking Melissa's courses. She also does Reiki, sound healing and grief classes. Melissa has been on live radio giving readings. She has also done many large group public events giving messages. Melissa enjoys bringing comfort, healing and honesty to those in need. She provides a beacon of light in the chaos. Melissa also does home clearings and have conducted ghost haunting tours at the Captain Merry Mansion in East Dubuque IL for the past two years.
Tickets:
$25(at the door)
All Seating is General Admission