Stars of the Grand Ole Opry
Saturday April 23, 2022 at 7:00 PM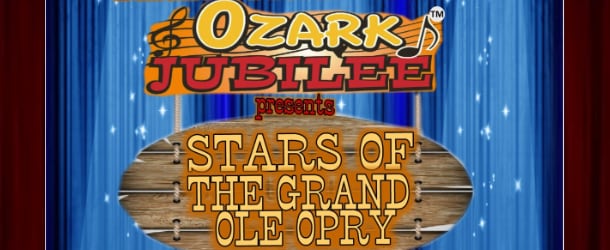 Presented by Ozark Jubilee!
Direct from Branson the Ozark Jubilee Presents: "STARS OF THE GRAND OLE OPRY". The all star cast of the JUBILEE will be performing the music of the Great Stars of the GRAND OLE OPRY. From ROY ACUFF, PATSY CLINE, TAMMY WYNETTE, RAY PRICE, GEORGE JONES MERLE HAGGARD, CHARLIE PRIDE, PORTER WAGGONER, and many more. This year the Jubilee features the Australian Sensation, "Jennifer Simmons". Jenny has traveled around the world and performed with many of the Opry Stars. The new Male vocalist for the Jubilee is Doug Driesel. Doug is a phenomenal vocalist, and has a 5 octave range.
The Jubilee features: BRANSON'S FUNNIEST COMEDIAN AND WORLD CLASS FIDDLER: DOOFUS DOOLITTLE. Doof is a Champion fiddle player and World Class Violinist. Doofus has performed with many of the Legends himself and will be sharing stories from his experiences with such artists as: MEL TILLIS, ROY CLARK, RAY PRICE, BILL ANDERSON, PORTER WAGONER, and many more. If you like Country Music, and Good Clean Family Entertainment, you'll want to bring all your friends & come out & see the: OZARK JUBILEE!
Tickets:
$25(in advance) $30(at the door)
All Seating is General Admission